"'I wish it need not have happened in my time,' said Frodo. 'So do I,' said Gandalf, 'and so do all who live to see such times. But that is not for them to decide. All we have to decide is what to do with the time that is given us."
- Tolkien, J.R.R.. The Lord of the Rings
Our Covidstan update is delayed this week for 2 reasons: Thanksgiving, and so much breaking news (Omicron variant, anyone)?
Is the Cavalry Coming to Save Our State? Our Nation?
WE are the Cavalry We've Been Waiting For!
The ongoing medical, cultural, legal, ethical, and political battles surrounding the unwarranted fear of COVID-19 (what Steve Deace has labeled "Covidstan") deserves its own separate newsletter.
Grassroots Gold believes this fight is the core intersection of faith, culture and political philosophy, and is the fight of our lifetime.
Nothing less than Western Civilization, as we know it, hangs in the balance.
Our response, as happy, joyous warriors, is demanded now more than ever before.
The good news for activists - every political and cultural fight in which we engage contributes to the resistance required to overcome this attempt at "fundamental transformation."
Be encouraged! We were made for these times.
Event: "C.O.V.I.D." Symposium 2021 Part 2
When: Friday-Saturday, December 3-4, 2021
Where: Open Door Church, 301 S. Dobson St., Burleson, TX 76028
Link to Open Door Church on Google Maps
God Save Our Children Coalition Presents:
"C.O.V.I.D." Symposium 2021 Part 2
A Legal Perspective
Keynote Speakers include Dr. Peter A. McCullough, MD, MPH, Dr. Ardis, DC, Dr. Cindi Marsden, MD, Dr. Ben Marble, MD, Warren V. Norred, Attorney, Paul Davis, Attorney, Leigh Dundas, AFLDS Attorney Freedom Fighter Nation, State Senator Bob Hall
Grassroots Gold highly recommends you try to attend this symposium, at least one of the days, especially if you have legal questions regarding your employment.
Grassroots Gold Co-Founder Paul Hodson plans to attend on Friday evening. Hope to see you there!
Medical/Early Treatment Information
There is early treatment for COVID; access to that treatment is being suppressed. Grassroots Gold will provide you information/resources you can access to get the help you, your family, your friends can use to circumvent the medical tyranny now in effect in our nation.
This information could save your life, or the lives of your family and friends.
Note: a new entry this week, "Graith Care". We met Priscilla Romans from Graith Care at the Jason Jones rally (story further down) on Monday. Check out their website.
There is no shortage of legal action in this fight. I'm sure we're not covering everything out there.
At least three major legal organizations are in this fight. For the most up-to-date information, we recommend you check out all three of these sites regularly:
Tracking the Fight
Military, Federal Employees and Civilians & Contractors
Liberty Counsel is, to our knowledge, the only organization directly challenging the Department of Defense Mandatory Coronavirus Vaccination and President Biden's Executive Orders 14042 & 14043, which apply to Federal Employees and Civilians & Contractors of the Federal Government. They filed both a class action lawsuit and a temporary restraining order and injunction.
On Monday, November 22nd, "federal judge Steven Merryday ordered each branch of the military to file a detailed report every 14 days beginning January 7, 2022. The order also stated that the federal executive orders regarding federal employees and civilian contractors expressly require religious exemption."
- Liberty Counsel
Read the Full Report from Liberty Counsel Here
Liberty Counsel expanded on their reporting on Wednesday, November 24:
"Employees who work for the federal government and those who work with private employers under a federal contract have the RIGHT to submit a request for religious exemption. These exemptions must be carefully and lawfully considered.
"In a previous hearing, the judge ordered the military to produce documentation on all religious exemption requests from service members. The documentation supplied revealed that the military did not grant ANY of the 16,643 religious exemption requests!
"While this alone should have been enough to issue an injunction, the judge has now ordered each branch to file a detailed report every 14 days beginning January 7. If the next report is like the first one, the judge will, no doubt, order the military and the Biden Department of Justice to honor the religious exemption requests.
"The military service branches must make their biweekly report to the court beginning January 7. The judge chose this date because the Department of Defense assured the court that no adverse action would be taken against anyone who has a pending religious exemption request until all appeals are exhausted.
"Joe Biden's military has two choices now:
Grant religious exemptions to service members, or
Admit to the courts every two weeks that they remain in violation of federal law by continuing to unlawfully deny armed forces members their RFRA right to refuse the COVID jabs. In this case, the judge will ORDER the military to abide by federal law and honor the religious exemption requests.
Either way, the result will be that military members will receive religious exemptions from the COVID shot mandate."
- Liberty Counsel
Court Sends Shots Over Biden's Bow
Read Liberty Counsel's Information on Lawsuit and Injunction
12 States Sue to End Joe Biden's COVID Shot Mandate
"State attorneys general across America are fighting to end Joe Biden's COVID-19 shot mandate. Montana Attorney General Austin Knudsen led the charge in a lawsuit joined by 11 other states to block the Biden administration over its unlawful "job or jab" COVID-19 shot mandate for health care workers."
- Liberty Counsel
Read the Full Story of the 12 States Here
Federal Judge's ruling prevents Pfizer EUA vaccines from being considered retroactively FDA approved
"The DOD has been ramming through an illegal vaccine mandate by lumping an EUA vaccine in with the BLA vaccine which was FDA approved on August 23, 2021. If you're not familiar, military service-members can't be forced to take an EUA vaccine unless the Commander in Chief (President Biden in this case) issues the order (which he hasn't), and even then there are certain stipulations which apply."
Fighting Vaccine Mandates
Many of us are facing imminent threats to our employment from vaccine mandates.
These mandates are coming from both the private sector and the government!
As reported above, Liberty Counsel reported some good news regarding the federal mandates (though the final disposition is still to be determined).
Grassroots Gold encourages you to check out Liberty Counsel, consider getting on their email and alerts list, and share this information with family, friends and patriots you know who are facing this challenge:
The Grassroots Fight (The Real Battle)
It's Time to Stand Against Covidstan!
Since January 2020, we've become all too familiar with COVID-19 and the consequences of governmental responses around the world, from the local level to the national level.
Each week Grassroots Gold will share informational, educational, inspirational, and motivational stories, articles and videos. A reminder that about the only thing we've been told that's true is that "we are all in this together."
There are many of us in this resistance. Be encouraged!
An All Too Familiar Story: 60+ Patriots Rally in support of Medical Freedom
On Monday, November 22, 60+ patriots gathered just south of Texas Health Huguley Hospital Fort Worth South, in support of the family of Jason Jones suing the medical facility for the right to give Jason ivermectin and other COVID therapeutics.
Local CBS affiliate, CBS 11, aired this segment in DFW (Click the photo below to go to the CBS video):
Grassroots Gold's Paul Hodson, and his wife Michelle Hodson, also provided a Facebook Live report from the rally:
There's Always Going to Be Another Variant

Note: as many have posted on social media, #Omicron is an anagram for "Moronic."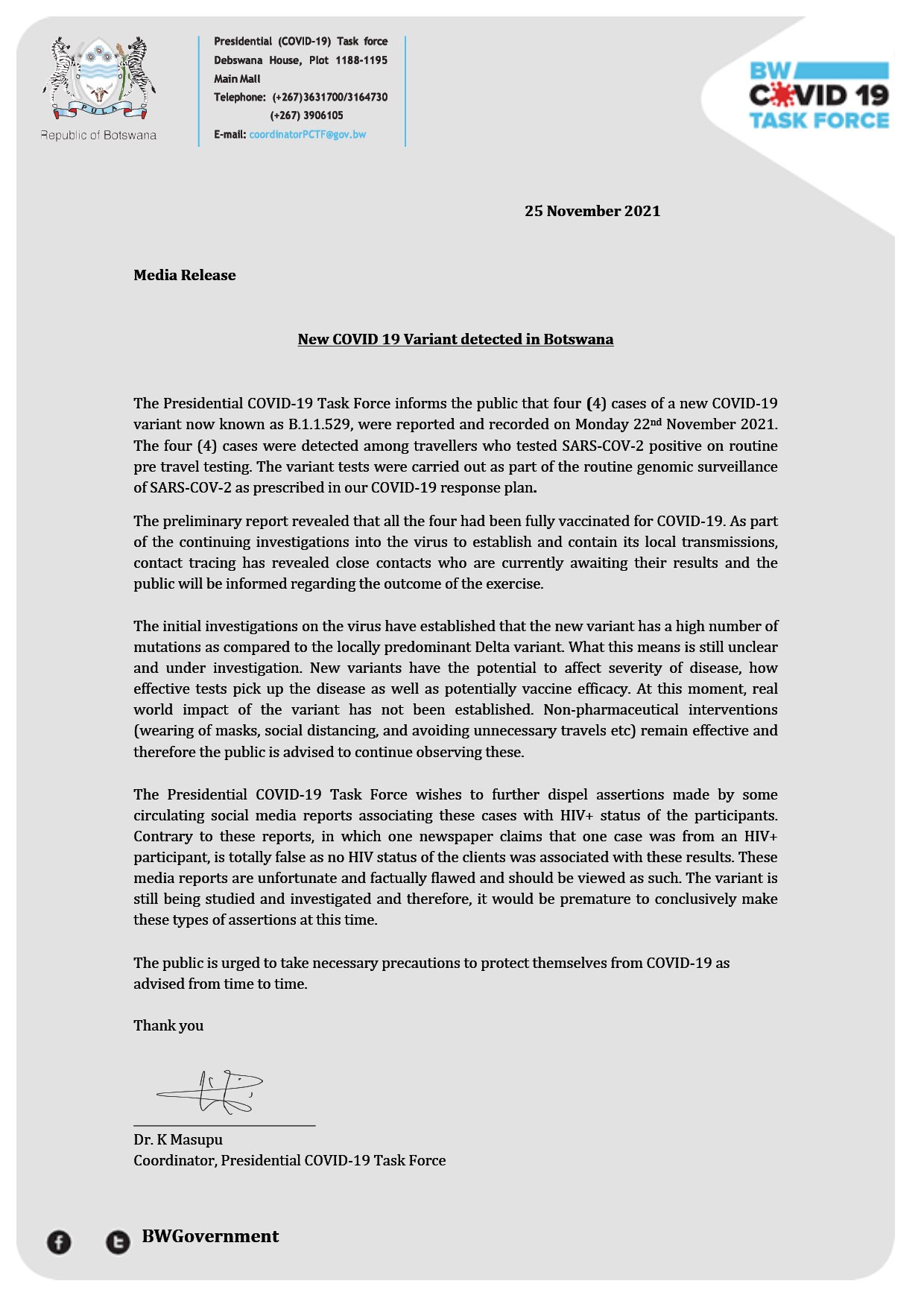 Are YOU Ready for a 4th Special Session?
Grassroots Gold challenges YOU to commit to supporting a 4th Special Session to ban vaccine mandates.
We urge you to do the following:
Complete our survey (takes 1 minute). We're collecting a count of how many grassroots advocates will commit to showing up at the Capitol to support the ban on vaccine mandates.
Grassroots Gold will personally deliver this count to Governor Abbott on Saturday, December 4, to help encourage him to call a 4th Special Session.
Contact your State Senator and your State Representative, by phone or email. If they support a 4th special session publicly, thank them (scroll up to see the current list of supportive legislators). If they have not yet supported a 4th special session, urge them to do so publicly (on social media). And encourage them to contact their leadership and the Governor in support of a 4th special session.
Click Here for More Information
This past August, some 1500 grassroots activists showed up at the Capitol in support of medical freedom. Our friends at Texans for Vaccine Choice organized this impressive rally.
We must commit to showing up in these types of numbers again and again during a 4th special session.
For Your Consideration (Books)
Several books covering COVID, from medical, political, and legal perspectives, have been available for months. Now even more books are coming to market. Here are some of our recommendations:
Faucian Bargain, by Steve Deace and Todd Erzen
Faucian Booster, by Steve Deace and Todd Erzen (a "supplement" to their original work)
COVID-19 and the Global Predators: We are the Prey, by Peter R. Breggin, MD, and Ginger Ross Breggin. Note: this is currently available for $2.99 on Kindle
A Plague Upon Our House: My Fight at the Trump White House to Stop COVID from Destroying America, by Scott W. Atlas, M.D.
The Chief's Chief, by Mark Meadows
The Real Anthony Fauci: Bill Gates, Big Pharma, and the Global War on Democracy and Public Health, by Robert F. Kennedy Jr. Note: this is currently available for $2.99 on Kindle
From the "They Really Are This Insane" Desk...
"(T)he Euthanasia Association (Verein Sterbehilfe) in Germany has announced that it will now render its assistance only to people who have been vaccinated or recovered from the disease."
Pledge to Defend Our Constitution Against Covidstan!
Finally, we encourage you to sign the "Pledge to Defend Our Constitution Against Covidstan"!
PowerPoint type presentation below - just Space Bar or click through the images to read the entire pledge.
Once you've digested all of this, we'd love to hear your thoughts. Drop us a line here:
If you find Grassroots Gold helpful, please consider a donation of any amount to help defer our costs. Not tax deductible.
"I do not believe that the solution to our problem is simply to elect the right people. The important thing is to establish a political climate of opinion which will make it politically profitable for the wrong people to do the right thing. Unless it is politically profitable for the wrong people to do the right thing, the right people will not do the right thing either, or if they try, they will shortly be out of office." - Milton Friedman
Grassroots Gold

Copyright Grassroots Gold, 2021