Grassroots Gold Newsletter November 22, 2021
This Week's Legislative Prayer Calendar
"First of all, then, I urge that supplications, prayers, intercessions, and thanksgivings be made for all people, for kings and all who are in high positions, that we may lead a peaceful and quiet life, godly and dignified in every way."
- I Timothy 2:1-2 (ESV)
Join the Call for a 4th Special Session
Almost immediately after the Texas Legislature adjourned sine die from the 3rd Special Session, grassroots advocates, and some legislators, began calling for Governor Abbott to convene a 4th Special Session, specifically to address the Biden Administration's COVID-19 vaccine mandates.
Grassroots Gold challenges YOU to commit to supporting a 4th Special Session to ban vaccine mandates.
We urge you to do the following:
Complete our survey (takes 1 minute). We're collecting a count of how many grassroots advocates will commit to showing up at the Capitol to support the ban on vaccine mandates.
Grassroots Gold will personally deliver this count to Governor Abbott, to help encourage him to call a 4th Special Session.
Reminder: Legislation belongs to you. Governance is a collaborative process. Let Governor Abbott know that you plan to show up at the Capitol to support legislation to ban vaccine mandates.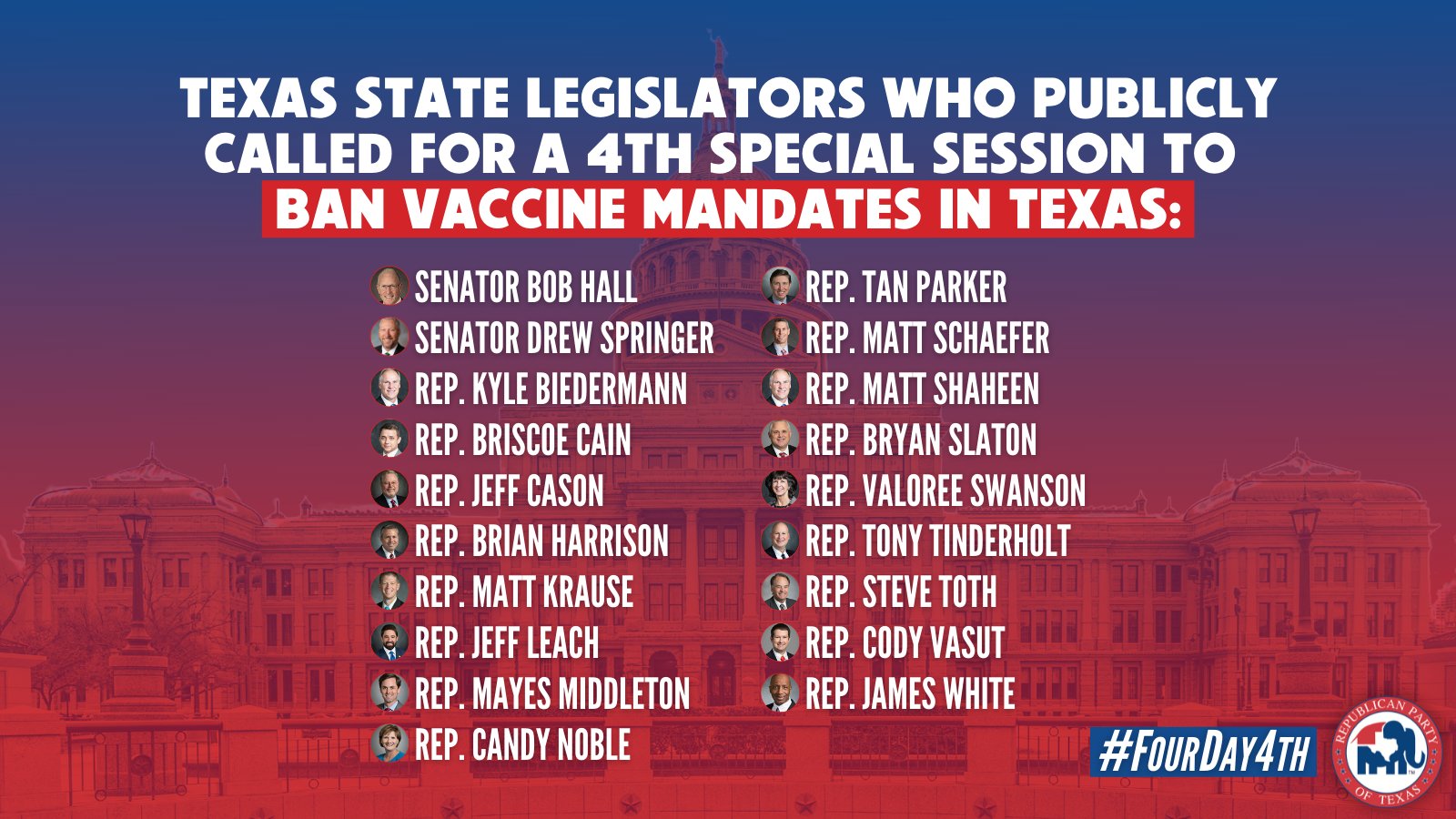 21 Texas State Legislators have publicly called for a 4th Special Session to ban vaccine mandates. This includes the 19 legislators listed above, and State Senator Angela Paxton and State Representative Keith Bell.
The Republican Party of Texas is trying to keep up with the ever growing list of legislators publicly supporting this call.
Lt. Gov. Dan Patrick also supports a 4th Special Session to ban vaccine mandates.
Grassroots Support Fueled the Florida Ban on Vaccine Mandates
Last week the Florida State Legislature passed a series of laws to ban vaccine mandates.
Grassroots advocates showed up at the Florida State Capitol (see above) to support/encourage their legislature to do the right thing. Included among those advocates were employees of several major airlines.
We anticipate the same type of support at our Texas State Capitol.
Note the immediate effect passage of these laws had in Florida.
DisneyWorld suspended their employee vaccine mandate within hours of the Florida laws being signed into law by Governor Ron DeSantis.
Save the Date - January 19-21, 2022!
Texas Public Policy Foundation's 20th annual Policy Orientation will be held in Austin the 3rd week of January.
More details to come, but here's a sneak peak...
For the first time ever, the TPPF Policy Orientation will include a grassroots advocacy breakout session. Grassroots Gold is blessed to present this session at the Policy Orientation next January.
We invite you to make plans now join us in Austin, along with grassroots leaders from all over the state, at this unique conference.
January 19, 2022 - January 21, 2022
10:00 am - 1:45 pm
Grassroots Gold Facebook Live
Join Grassroots Gold every Thursday at 5:30pm CT for our weekly GG Facebook Live.
Well, not this coming Thursday, which is Thanksgiving!
Take that time to celebrate with family and friends, and to give thanks to God for the great privilege of living here in Texas, during this extraordinary time.
Blessings to you all.
Upcoming Livestream Events
November 29, 2021
12:00 pm - 12:30 pm
January 19, 2022 - January 21, 2022
10:00 am - 1:45 pm
Looking for like-minded patriots in your area? Open our Liberty Groups page, scroll through our list, or search if already know the name of a liberty group.
Don't see your group listed? Let us know!
News & Information Resources
Our ever growing list of recommended sources for political and cultural news:
Latest Grassroots Gold Blog Posts
October 16, 2021 - Wes Whisenhunt
I Shall Use My Time & Not Waste My Days
October 9, 2021 - Wes Whisenhunt
Duty Is Ours Results Are God's
October 2, 2021 - Wes Whisenhunt
The Trembling Duplicity Of A Spaniel
September 25, 2021 - Wes Whisenhunt
Reining In Identity Politics
September 11, 2021 - grassrootsgoldpaul
Let's Roll!
If you find Grassroots Gold helpful, please consider a donation of any amount to help defer our costs. Not tax deductible.
"I do not believe that the solution to our problem is simply to elect the right people. The important thing is to establish a political climate of opinion which will make it politically profitable for the wrong people to do the right thing. Unless it is politically profitable for the wrong people to do the right thing, the right people will not do the right thing either, or if they try, they will shortly be out of office." - Milton Friedman
Grassroots Gold

Copyright Grassroots Gold, 2021